Answer
MRI provides an excellent method for characterizing HCC without radiation and the need for iodinated contrast. Technologic improvements have reduced scanning time and improved the specificity of the study. Pooled analysis demonstrated a sensitivity of 81% and a specificity of 85%. [36]
HCC demonstrates a variety of features on MRI, depending on the tumor architecture, grade, and amount of intratumoral fat and glycogen. [43] (See the image below.) The lesion ranges from isointense to hyperintense (bright) on T1-weighted images. Similarly, T2 images may vary from isointense to hyperintense. Well-differentiated tumors are more commonly hyperintense on T1 images and isointense on T2 images, whereas moderately or poorly differentiated tumors tend to be hyperintense on T2 images and isointense on T1 images. Although imaging characteristics may be suggestive, a significant overlap may occur between the tumor and regenerative nodules.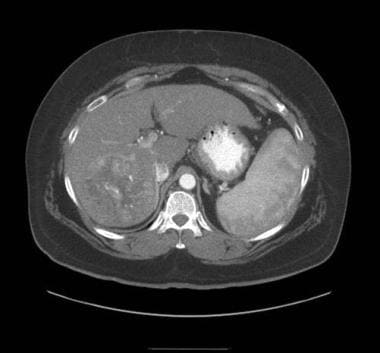 MRI of a liver with hepatocellular carcinoma.
The benefits of contrast-enhanced studies must be balanced against the risks if any anatomic or functional renal impairment is possible. Iodinated contrast for CT may worsen renal failure, and gadolinium enhancement on MRI has been linked to a syndrome of severe systemic fibrosis in a patient with renal failure. [44]
---
Did this answer your question?
Additional feedback? (Optional)
Thank you for your feedback!