Answer
Accurate diagnosis and surgical planning require adequate cross-sectional imaging studies. Although US is commonly used for screening, it does not provide sufficient anatomic detail for planning surgical resection or ablation. Correlation between ultrasonographic findings and explant liver pathology has revealed that a significant number of small lesions may not be detected with ultrasound screening. Pooled estimates from one meta-analysis suggested that US is only 60% sensitive. [36]
US identification of HCC can be difficult in the background of regenerative nodules in the cirrhotic liver. In general, HCC appears as a round or oval mass with sharp, smooth boundaries. The lesions have a range of echogenicity, from hypoechoic to hyperechoic, depending on the surrounding parenchyma and the degree of fatty infiltration. The border between the HCC and the liver can become indistinct with nodular HCC. The use of Doppler analysis to characterize the lesion can be helpful, in that HCC is more likely to have a significant arterial blood supply and neovascularization as compared to regenerative nodules. (See the image below.)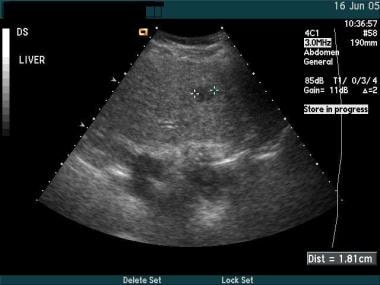 Ultrasonographic image of hepatocellular carcinoma.
---
Did this answer your question?
Additional feedback? (Optional)
Thank you for your feedback!