Answer
Laparoscopic sleeve gastrectomy (LSG), a type of unbanded gastroplasty, employs subtotal gastric resection to create a long lesser curvature–based gastric conduit. (See the image below.)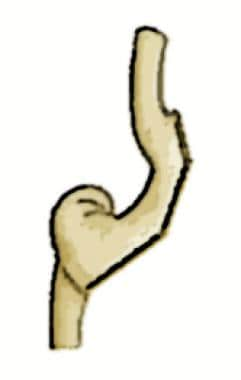 Sleeve gastrectomy.
In this procedure, the stomach is reduced to about 15-20% of its original size by the surgical removal of a large portion of the stomach, following the greater curve. The mechanism of weight loss and resultant comorbidity improvement that follows sleeve gastrectomy may be related to gastric restriction or to neurohumoral changes observed following the procedure (due to the gastric resection).
Sleeve gastrectomy has been used as the first stage of a two-stage procedure for high-risk patients, [16] but owing to its simplicity and favorable outcomes, [17] it is currently being offered as a standalone primary procedure. In the first decade of the 21st century, many hundreds of sleeve gastrectomies were performed in the United States. On the basis of follow-up periods of 6 months to 3 years, patients were found to have lost 33-83% of their excess weight. [18, 19, 20, 21, 22, 23, 24, 25, 26, 27, 28, 29, 30, 31]
Compared with other bariatric procedures, sleeve gastrectomy is the more physiologic treatment because it does not involve malabsorption, abnormal tracts, blind tracts, or the placement of a foreign body. This procedure is widely performed laparoscopically. [30]
Hutter et all conducted the first large, prospective, multi-institutional study comparing 1-year outcomes of LSG to other procedures. Results show LSG has morbidity and effectiveness between laparoscopic adjustable gastric banding and standard Roux bypass. [32]
As with other bariatric procedures that involve stomach transection, the main drawback of sleeve gastrectomy is the severity of postoperative complications. The use of staple-line reinforcement was shown to be associated with improved perioperative outcomes and can be considered as an effective method for preventing leaks. [33]
A larger prospective comparative study involving 187 patients undergoing laparoscopic sleeve gastrectomy found that reinforcement of the staple line with bovine pericardium strips was associated with a significant reduction in bleeding from the staple line and intra-abdominal collections, whereas the leak rate was not significantly reduced. It is unclear, though, whether controlling for high BMI, previous bariatric surgery, and diabetes was taken into account. [34]
In a randomized study that involved 120 patients who had undergone laparoscopic sleeve gastrectomy, using either polyglycolide acid with tri-methylene carbonate or gelatin fibrinmatrix for SLR was found to be faster as compared with oversewing, whereas no significant differences in postoperative complications were observed between the three methods. [35]
According to two studies presented at Obesity Week 2017, LSG is safer than laparoscopic gastric bypass at 30 days (though both procedures are very safe); however, in the longer term (7 years and beyond), one quarter to one third of LSG patients may require a revision or regain lost weight. [36]
---
Did this answer your question?
Additional feedback? (Optional)
Thank you for your feedback!