Answer
Biliopancreatic diversion with duodenal switch (see the image below) includes the following:
Lateral 75% gastrectomy, resulting in a tubular stomach

Duodenum divided past the pyloric valve

Ileum divided

Distal end anastomosed to proximal duodenum

Common channel created distally with Y-anastomosis

Optional appendectomy and cholecystectomy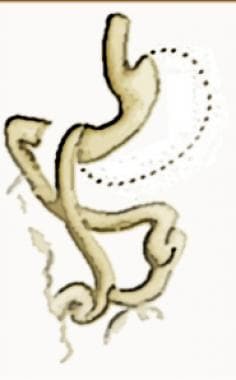 Biliopancreatic diversion with duodenal switch.
Malabsorption is achieved by separating food from biliopancreatic digestive fluids. More weight loss results from fat malabsorption. Protein absorption is also reduced. This has the best weight loss with the least regain. There is less disruption of eating patterns. Early weight loss is from restriction and malabsorption, and, later, it is mostly from malabsorption; 75-85% of excess body weight loss is at 18 months. Pyloric preservation protects against marginal ulceration and dumping syndrome.
The procedure is technically challenging and difficult to reverse. Insurance companies may not cover this procedure, because it is still considered investigational.
---
Did this answer your question?
Additional feedback? (Optional)
Thank you for your feedback!