Answer
Laparoscopic adjustable gastric banding is the most common bariatric procedure and is performed in Europe, Australia, and South America. (See the image below.) Currently, two devices are approved by the US Food and Drug Administration (FDA) for this use in the United States: the Lap-Band (Apollo Endosurgery, Austin, TX) and the Realize Band (Ethicon Endo-Surgery, Somerville, NJ).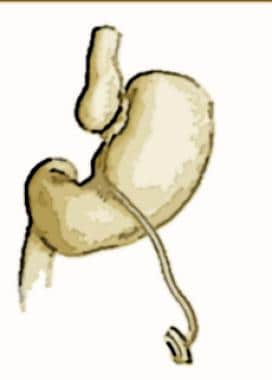 Adjustable gastric banding.
In this procedure, an adjustable inflatable band is placed around the proximal part of the stomach. This creates a small gastric pouch (~15 mL in volume) and a small stoma. Band restriction is adjustable by adding or removing saline from the inflatable band by a reservoir system of saline attached to the band and accessible through a port, which is attached by a catheter to the band. The port is placed subcutaneously in the anterior abdominal wall after the band is secured around the stomach.
Adjustment of the band through the access port is an essential part of laparoscopic adjustable gastric banding therapy. Appropriate adjustments, performed as often as six times annually, are critical for successful outcomes. Patients must chew food thoroughly to allow food to pass through the band. Adjusting the inflation of the cuff changes the size of the opening through which food passes but does not change the size of the gastric pouch; deflation of the cuff is useful when the outlet is obstructed.
Weight loss after laparoscopic adjustable gastric banding is about 50-60% of excess body weight in approximately 2 years.
Laparoscopic adjustable gastric banding can be completely reversed with removal of the band, tubing, and port.
Combining laparoscopic adjustable gastric banding with gastric plication may improve weight-loss outcomes, at least in the short term. [15]
---
Did this answer your question?
Additional feedback? (Optional)
Thank you for your feedback!