Answer
Gastric bypass is currently the most popular procedure performed in the United States. (See the image below.) This procedure has earned the reputation of being the gold standard, against which other procedures are compared. The procedure has a restrictive and a malabsorptive component.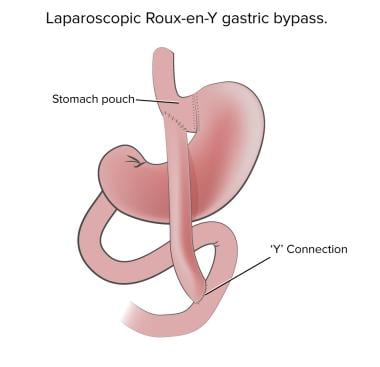 Laparoscopic Roux-en-Y gastric bypass.
The gastric bypass provides a substantial amount of dietary restriction. The restriction is created by the small stomach pouch, which gives the patient a feeling of satiety after eating a small meal. The restrictive element of the operation consists of the creation of a small gastric pouch (approximately 20 mL in volume) and probably a small outlet that, on distention by food, causes the sensation of satiety.
In addition, the gastric bypass provides a small-to-moderate degree of intentional malabsorption due to the separation of food, which passes through the alimentary limb of the Y, from the biliopancreatic secretions, which pass through the biliopancreatic limb of the Y. The degree of malabsorption can be adjusted by modifying the length of the alimentary and biliopancreatic limbs.
The malabsorptive element is a result of bypassing the distal stomach, the entire duodenum, and varying the length of the jejunum. The extent of the bypass of the intestine determines the degree of macronutrient malabsorption. The standard Roux limb is about 75 cm. More extensive malabsorptive variations consist of gastric bypasses with a 150-cm Roux limb (long-limb) or with a very long-limb (distal gastric bypass). In addition to restricting food intake, causing some degree of malabsorption, it also causes dumping syndrome in response to a high-sugar liquid meal.
Weight loss after a standard 75-cm Roux gastric bypass usually exceeds 100 lb or about 65-70% of excess body weight and about 35% of BMI. The longer-limb bypasses are used to obtain comparable weight reductions in patients who are super obese (BMI >50 kg/m2). Weight loss generally levels off in 1-2 years, and a regain of up to 20 lb from the weight loss nadir to a long-term plateau is common.
---
Did this answer your question?
Additional feedback? (Optional)
Thank you for your feedback!