Answer
Answer
With the single-puncture technique, the pulmonologist inserts accessory instruments through the working channel of the pleuroscope. Parietal pleural biopsies, for example, can be done using illuminated forceps through a single point of entry. To enter the pleural cavity, an 8- to 10-mm skin incision is made parallel with and centered in the intercostal space selected. Blunt dissection is then performed with a straight scissor down to the parietal pleura. The trocar is gently pushed through the dissected pathway; with moderate pressure, it is pushed through the pleura (see the image below).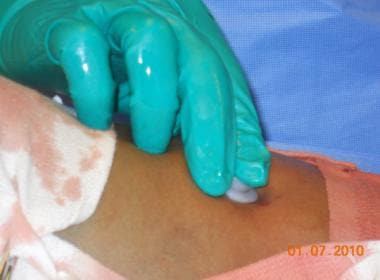 Trocar insertion for medical thoracoscopy.
Any fluid remaining in the pleura is aspirated with a blunt flexible tube that is fed through the trocar sleeve. The tube is usually smaller than the track made into the pleural space to continue to allow for air to enter the thoracic cavity and induce a pneumothorax.
The insertion of the semirigid pleuroscope through the trocar is shown in the image below.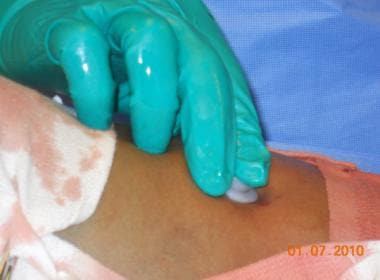 Trocar insertion for medical thoracoscopy.
---
Did this answer your question?
Additional feedback? (Optional)
Thank you for your feedback!