Answer
Answer
Malignant Pleural Effusion/Pleurodesis
In cases with an established malignant diagnosis, medical thoracoscopy also has a therapeutic role in the form of pleurodesis. [6] Complete evacuation of pleural fluid, with maximization of lung expandability by removing adhesions and pleurodesis by talc insufflations (see the image below), has short- and long-term success rates greater than 90%. [3]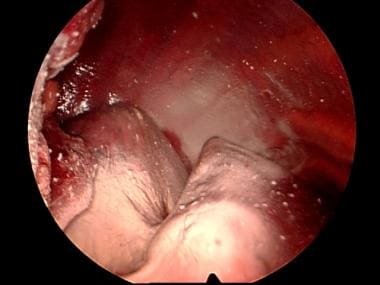 Talc pleurodesis on lung and parietal pleura.
The benefit of the pleurodesis is twofold. First, it improves the patient's functional status and quality of life. In the setting of advanced malignant disease, this is the central goal of any physician. In patients who are undergoing further treatment for malignancy, there is an added benefit of increasing treatment options by improving the patient's functional status.
In addition, patients who do require further treatment can be excluded from certain chemotherapeutics because of the chemotherapy's tendency to distribute into the pleural effusion and affect serum levels. The classic examples of this are methotrexate, fludarabine, and possibly pemetrexed. [7, 8, 9]
Survival of patients with advanced pleural disease is often discussed in weeks to months. The benefits of medical thoracoscopy against repeated thoracentesis should be carefully considered for the individual patient.
---
Did this answer your question?
Additional feedback? (Optional)
Thank you for your feedback!