Answer
Answer
Idiopathic pleural effusions that have been sampled by thoracentesis are ideal for medical thoracoscopy. The direct visualization of the pleura allows for site-directed biopsy of abnormal parietal pleura. Additionally, it allows for examination of the visceral pleura and any clues that may lead to the diagnosis of the pleural effusion. Most interventional pulmonologists limit biopsy to the parietal pleura due to the risk for injury to the lung when sampling the visceral pleura.
Cytologic examination of pleural fluid is diagnostic in only 60-80% of patients with metastatic pleural involvement and in less than 20% in patients with mesothelioma. [3] In cases for which the initial evaluation of a pleural effusion is nondiagnostic and malignancy is suspected, medical thoracoscopy and parietal pleural biopsy should be considered. [4] Medical thoracoscopy with pleural biopsy establishes a diagnosis in more than 90% of the cases. [5]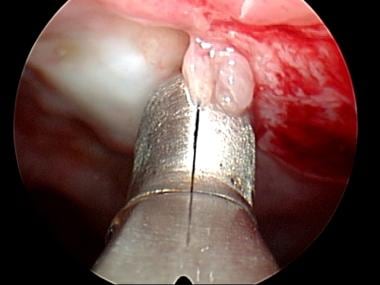 Biopsy forceps sampling parietal pleura.
---
Did this answer your question?
Additional feedback? (Optional)
Thank you for your feedback!