Answer
Late gadolinium-enhanced (LGE) cardiovascular magnetic resonance imaging (CMRI) is of a great diagnostic value in the evaluation of cardiac amyloidosis. Amyloid infiltration leads to the expansion of extracellular space that retains gadolinium, resulting in signal enhancement in comparison with normal myocardium, which can be detected in the late washout phase during delayed enhanced imaging. Global subendocardial enhancement is the most common pattern. [28, 55, 56, 57, 58]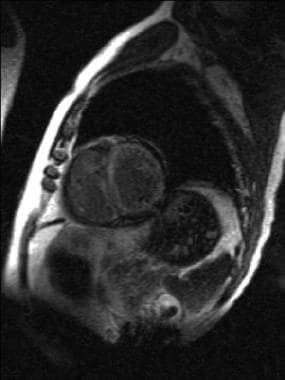 Short axis left ventricle: Global subendocardial gadolinium enhancement.
The gadolinium wash-out time is increased, and the myocardium appears bright in contrast to normal myocardium that appears black. CMRI is the most accurate predictor of biopsy positive cardiac amyloidosis, with a sensitivity and specificity of 88% and 95%, respectively. T1 kinetics (intramyocardial T1 gradient) to denote lower epicardial gadolinium uptake is a marker of better survival in patients with amyloidosis.
A study by Barison et al indicated that the measurement of myocardial extracellular volume with CMRI with or without gadolinium enhancement can be used in the diagnosis and monitoring of cardiac amyloidosis. [59] Using a novel T1-mapping technique, the investigators found that the cardiac extracellular volume was significantly greater in patients with amyloidosis than in control individuals, with the volume difference being apparent whether or not LGE was used. They also found that a correlation existed between extracellular volume and a patient's LVEF and LV diastolic function and with the mean wall thickness of the left ventricle, as well as with the RVEF, cardiac troponin level, and N-terminal fragments of proBNPs. In addition, using an extracellular volume cutoff value of over 0.316, Barison et al found that extracellular volume could be used to distinguish between patients with amyloidosis and control individuals with a 79% sensitivity and 97% specificity. [59]
Using CMRI and echocardiographic evaluation to study 22 patients with biopsy-proven cardiac amyloidosis, 37 with systemic hypertension, and 22 with nonischemic dilated cardiomyopathy, Kwong et al found that patients with cardiac amyloidosis may have extensive LGE of the left atrial myocardium, associated with markedly reduced left atrial emptying function. [54] The extent of the left atrial LGE was highly predictive for cardiac amyloidosis. [54]
In patients with LGE-negative systemic amyloidosis on CMRI, CMR strain analysis appears to have the ability to detect early systolic and diastolic strain impairment. [60] In a study that evaluated 34 patients (17 each) with LGE-positive or LGE-negative light-chain amyloidosis and 17 healthy controls, Kuetting et al found that regardless of whether patients had LGE or not, their early diastolic strain rate (EDSR) and peak systolic longitudinal strain (PSLS) values were significantly lower than that of their healthy cohorts. Quantitative LGE-enhancement analysis showed increased enhancement in qualitative LGE-negative patients relative to the healthy control group. [60]
---
Did this answer your question?
Additional feedback? (Optional)
Thank you for your feedback!