Answer
Answer
Sleep endoscopy, also known as sleep nasoendoscopy (SNE) or drug-induced sleep endoscopy (DISE), is a powerful tool for studying the dynamic airway in a sleeping patient with obstructive sleep apnea (OSA). Using the knowledge gained from sleep endoscopy, the surgeon can tailor the operative procedure to the patient's specific condition. [1, 2, 3, 4]
Due to the difficulty in establishing the site of obstruction in the conscious patient who carries a diagnosis of OSA, the diagnosis and treatment of OSA is a complex and multidimensional issue. Croft and Pringle first proposed sleep endoscopy in 1991. Using midazolam as a sedating agent, they demonstrated the utility of passing a fiberoptic endoscope (see the image below) through a sleeping patient's nasal cavity to assess pharyngeal structures for evidence of obstruction. They were able to induce the preexisting snoring in 95% of their patients. [5]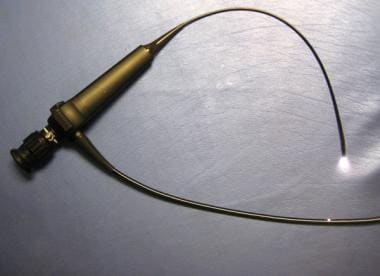 Adult fiberoptic nasopharyngoscope with 4-mm distal diameter, 2-way articulation, and video-recording capabilities.
In 1993, Croft and Pringle developed a grading scale that utilized sleep endoscopy to categorize snoring and obstruction. Grading was based on whether the obstruction was palatal, multilevel, or tongue-based. [6] Sleep endoscopy, in combination with the grading scale, allows the physician to directly observe pharyngeal structures in the sedated patient with OSA and categorize the obstruction.
Another grading system that uses sleep endoscopy to assess airway obstruction utilizes 3 separate evaluations of the pharynx. The first analysis uses a dichotomous assessment to identify individual areas of obstruction in the palate and hypopharynx regions. The second analysis assesses the percentage of obstruction in each area: less than 50%, 50-75%, and more than 75%, representing mild, moderate, and severe obstruction, respectively.
Based on the level and pattern of airway obstruction in a patient with OSA, sleep endoscopy allows the physician to tailor the treatment plan to each patient. This can improve the results of surgical intervention and/or minimize the scope of intervention. Sleep endoscopy may also provide information that erases the need for surgery altogether.
For example, nearly 70% of patients surveyed in an outpatient setting by Hewitt et al were determined to have a palatal cause of obstruction and were prescribed surgical intervention. However, after the patients underwent sleep endoscopy, that figure dropped to 54%, reducing the number of procedures performed. [7]
The high success rate of customized treatment for OSA has been attributed to the targeted selection offered by sleep endoscopy. [8] The multimedia clip below shows typical findings seen on routine DISE.
Compilation of sleep endoscopy findings. Video courtesy of Philip E Zapanta, MD.
---
Did this answer your question?
Additional feedback? (Optional)
Thank you for your feedback!