Answer
Most polyps in persons of this age group are the juvenile type and are located throughout the colon. These are benign hamartomas and usually require no treatment, because they autoamputate. Colonoscopy, the diagnostic evaluation of choice, can be used to excise bleeding polyps when they are identified.
In Meckel diverticulum, bleeding may be brisk, and transfusion is often required. However, the bleeding is usually self-limited and resolves spontaneously with episodic recurrences.
The treatment of ulceration in Meckel diverticulum is surgical resection after preoperative fluid resuscitation and adequate transfusion. A right lower quadrant incision is used, and the diverticulum is mobilized. (A bleeding, ulcerated Meckel diverticulum is seen below.)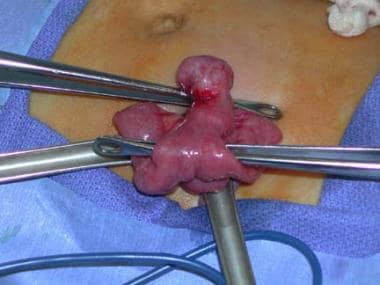 Intraoperative view of the bleeding Meckel diverticulum. Note the ulceration at the base.
Careful visual inspection and palpation locate the ectopic gastric mucosa and ulceration. If the ulcer is confined to the diverticulum, diverticulectomy alone is performed and closed in a transverse fashion with sutures or a stapling device.
If the diverticulum is broad based or the ulcer cannot be included in the diverticulum specimen, segmental bowel resection is necessary, with an end-to-end anastomosis. An appendectomy is often performed with the resection.
---
Did this answer your question?
Additional feedback? (Optional)
Thank you for your feedback!