Answer
Most polyps in persons of this age group are the juvenile type and are located throughout the colon. These are benign hamartomas and usually require no treatment, because they autoamputate. (A juvenile polyp is seen below.)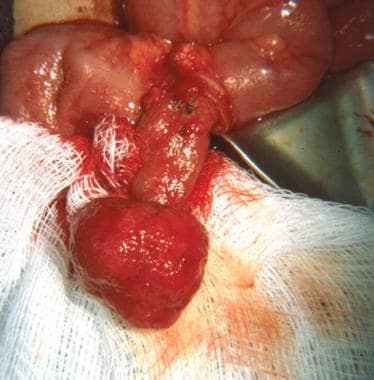 Intraoperative view of a bleeding juvenile polyp.
Meckel diverticulum (see the images below) is often summarized by clinicians by "The Rule of Twos": it occurs in 2% of the population, it usually presents prior to 2 years of age, it usually is located within 2 feet of the ileocecal valve, is 2 inches in length, and has 2 types of heterotrophic mucosa. The etiology of GI bleeding due to Meckel diverticulum is ileal ulceration caused by acid secretion from the ectopic gastric mucosa. Erosion into small arterioles leads to painless, brisk rectal bleeding. The site of ulceration is generally at the base of the diverticulum where the ectopic mucosa and the normal ileum join. More rarely, the ulcer appears distally in the ileum.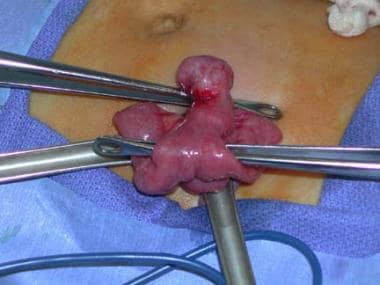 Intraoperative view of the bleeding Meckel diverticulum. Note the ulceration at the base.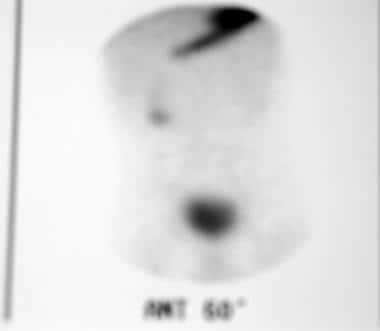 Radioactive tracer in stomach, bladder, and the Meckel diverticulum in a 5-year-boy brought in for lower gastrointestinal bleeding.
---
Did this answer your question?
Additional feedback? (Optional)
Thank you for your feedback!