Answer
Answer
The etiology, diagnosis, and treatment of breast cancer in males is similar to that in females. Unlike breast cancer in females, however, breast cancer in men is rare. Although its frequency has increased in recent decades—particularly in the urban United States, Canada, and the United Kingdom—breast cancer in males accounts for less than 1% of breast cancers. [1] In the United States, males are expected to account for only 2600 of the estimated 249,260 cases of breast cancer predicted to occur in 2016. [3]
Unfortunately, this rarity has largely precluded prospective randomized clinical trials. It may also contribute to the infrequency of early diagnosis. Men tend to be diagnosed with breast cancer at an older age than women and with a more advanced stage of disease, and they have proportionately higher mortality, although outcomes for male and female patients with breast cancer are similar when survival is adjusted for age at diagnosis and stage of disease. [4]
See the image below.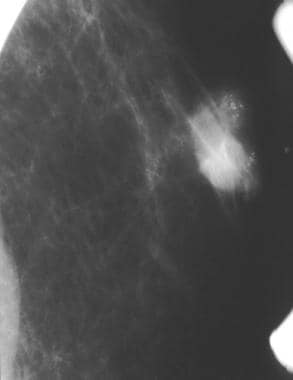 A partially circumscribed retroareolar mass in a male with suspicious microcalcifications; this is known breast cancer.
---
Did this answer your question?
Additional feedback? (Optional)
Thank you for your feedback!