Answer
Answer
The development of tertiary and late-stage disease usually occurs 6 months to years after inoculation.
Destruction of the bone and the cartilage in the formation of gummatous lesions (commonly in the nose) may take place. The gummas can ulcerate and develop chronic serpiginous tracts. Healing results in depigmented scars with a hyperpigmented border.
Saddle nose deformity and palate perforation can occur.
Rare, atypical involvement of the cardiovascular and nervous systems can occur.
See the image below.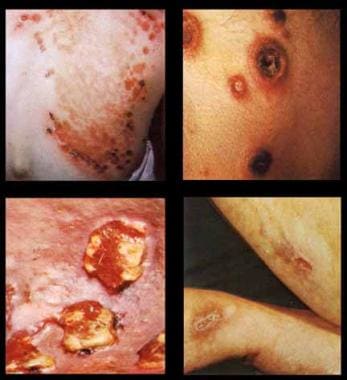 Third-stage gummatous lesions.
---
Did this answer your question?
Additional feedback? (Optional)
Thank you for your feedback!