Answer
Answer
The incubation period for endemic syphilis is 10-90 days.
Primary lesions usually manifest in the oropharynx.
Skin lesions in the primary stage resemble the chancres of venereal syphilis. A small, eroded or ulcerated papule is usually asymptomatic. Observing a lesion on the nipple of a mother with a suckling child who is infected is not uncommon.
Primary lesions heal in 1-6 weeks and often go undiagnosed. Generalized lymphadenopathy is uncommon, since the inoculum is small.
See the image below.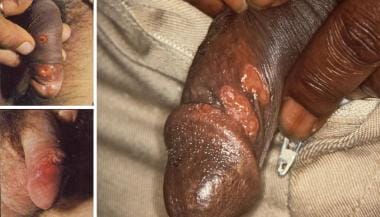 Primary stage lesions.
Yaws can present with chronic skin ulcers, especially in tropical and subtropical climates. [7, 8, 9, 10, 11, 12]
---
Did this answer your question?
Additional feedback? (Optional)
Thank you for your feedback!