Answer
Answer
Microscopically, the squamous cell tumors arise in the epithelium and infiltrate in sheets, nests, and islands (see the images below); they resemble epidermal tumors, with some combination of individual cell keratinization, keratin pearls, and intercellular bridges. [3] Transurethral resection of bladder tumor (TURBT) biopsies may contain only keratinous debris. [19] Keratinization of the cells at the stromal interface is a sign of invasion.
The tumor cells are polygonal with well-defined cell borders and have cytoplasm that is amphophilic to eosinophilic. The nuclei are pleomorphic, occasionally bizarre, with irregular chromatin and prominent nucleoli. Mitotic figures are easily identifiable. Abundant degenerated cells are also seen in biopsy material. Squamous metaplasia has been seen in 17%-60% of nonendemic cases. [17] There is a 21%-42% risk of the development of bladder cancer once squamous metaplasia occurs. [20]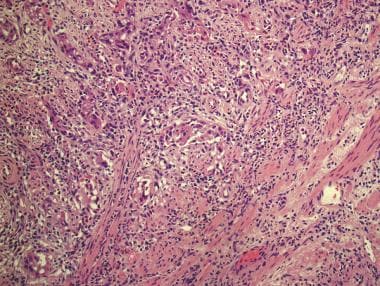 Squamous cell carcinoma. Note the infiltration into the muscularis propria by small nests and individual tumor cells.
Squamous carcinoma in situ adjacent to the tumor.
---
Did this answer your question?
Additional feedback? (Optional)
Thank you for your feedback!