Answer
Answer
Neuroendocrine markers, such as chromogranin A, synaptophysin, CD56, and neuronal specific enolase, [10] are often focal or diffusely positive for small cell bladder tumors by immunohistochemistry, and they are useful tools to help establish a diagnosis. (See the image below.)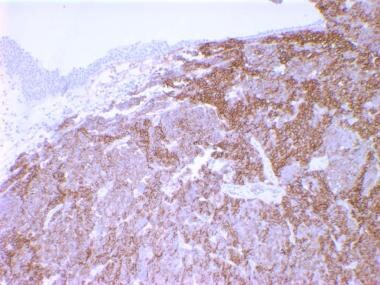 Small cell carcinoma of the bladder. Neuroendocrine markers, such as chromogranin A, synaptophysin, CD56, and neuronal specific enolase, are often focal or diffusely positive for this tumor by immunohistochemical method and are useful to help establish a diagnosis.
However, a definitive diagnosis can be rendered based on morphology alone; even immunohistochemistry may fail to demonstrate expression of these markers. A cocktail of cytokeratin markers is often nonreactive, but low molecular cytokeratin, CAM5-2, and epithelial membrane antigen (EMA) are mostly positive. [11, 12]
---
Did this answer your question?
Additional feedback? (Optional)
Thank you for your feedback!