Answer
Answer
Torsade is an electrocardiographic diagnosis, and obtaining an electrocardiogram (ECG) is mandatory. [18] Typical examples are depicted below.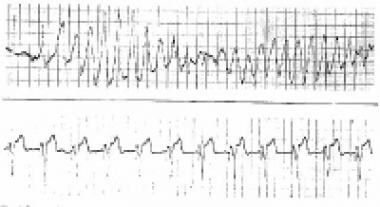 A run of torsade de pointes in a 70-year-old man who developed QT prolongation (QTc = 0.61 sec) secondary to quinidine therapy. The bottom strip shows resolution with overdrive ventricular pacing.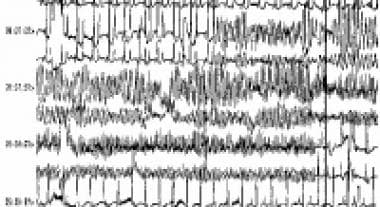 A patient with prolonged QT and atrial ectopy. Strip shows premature beat that entrains and a run of torsade de pointes.
Frequent ECG monitoring is indicated for patients who are at risk due to chronic conditions or drug therapy. When the patient is in sinus rhythm, examine the QT interval. Usually, a prolonged QT interval and pathological U waves are present, reflecting abnormal ventricular repolarization. The most consistent indicator of QT prolongation is a QT of 0.60 s or longer or a QTc (corrected for heart rate) of 0.45 s or longer.
---
Did this answer your question?
Additional feedback? (Optional)
Thank you for your feedback!