Answer
Answer
Bacillus Calmette-Guérin (BCG), a live attenuated strain of Mycobacterium bovis, is currently the only agent approved by the US Food and Drug Administration for primary therapy of carcinoma in situ (CIS; see image below) of the bladder. BCG supplanted cystectomy as the treatment of choice for CIS in the mid-1980s. BCG therapy also reduces the risk of recurrence, and ongoing maintenance therapy with BCG reduces the risk of progression in patients with high-grade non–muscle invasive bladder cancer. [1]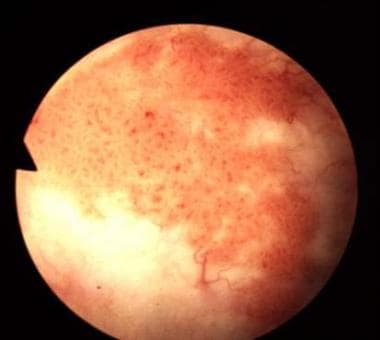 The classic appearance of carcinoma in situ as a flat, velvety patch. However, using special staining techniques such as 5-aminolevulinic acid, it has been shown that significant areas of carcinoma in situ are easily overlooked by conventional cystoscopy. Courtesy of Abbott and Vysis Inc.
Bladder cancer is the only cancer in which BCG is commonly used. Other agents have been used in bladder cancer, but none has surpassed the effectiveness of BCG.
For BCG to be effective, all the following criteria should be met:
The patient is immunocompetent

The tumor burden is small

BCG makes direct contact with the tumor

The dose is adequate to incite a reaction
Studies have consistently shown that BCG treatment can eradicate this cancer in 70% of patients with CIS who meet these criteria. To prevent cancer recurrence, long-term maintenance therapy following the induction phase is necessary.
Typically, BCG is administered in either an induction (once weekly for 6 weeks) or maintenance (once weekly for 3 weeks) course. Another 6-week course may be administered if a repeat cystoscopy (see image above) reveals tumor persistence or recurrence. Induction therapy combined with maintenance therapy every 3-6 months for 1-3 years may provide more lasting results. Periodic bladder biopsies are usually necessary to assess response.
---
Did this answer your question?
Additional feedback? (Optional)
Thank you for your feedback!