Answer
Mycoplasma pneumoniae is a common cause of community-acquired pneumonia (CAP), and the disease usually has a prolonged, gradual onset. [1] M pneumoniae was first isolated in cattle with pleuropneumonia in 1898.
In 1938, Reimann described the first cases of mycoplasmal pneumonia in man and coined the term "primary atypical pneumonia" after observing 7 patients in Philadelphia with marked constitutional symptoms, upper and lower respiratory tract symptoms, and a protracted course with gradual resolution. [2] Peterson discovered the phenomenon of cold agglutinin in 1943. High titers of cold agglutinins in patients with primary atypical pneumonia were discovered accidentally. In 1944, Eaton was credited with discovering a specific agent, coined Eaton's agent, as the principal cause of primary atypical pneumonia. [3] First thought to be a virus, Eaton's agent was proved to be a Mycoplasma species in 1961.
The breakdown of the Mollicutes class, which includes the Mycoplasma genus, is presented in the image below.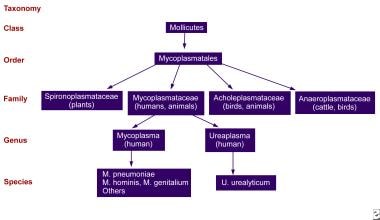 Diagram of the Mollicutes class, to which the Mycoplasma genus belongs.
Go to Community-Acquired Pneumonia, Bacterial Pneumonia, Mycoplasma Infections, and Imaging Atypical Bacterial Pneumonia for more information on these topics.
---
Did this answer your question?
Additional feedback? (Optional)
Thank you for your feedback!