Answer
Neoplasms strongly suggest malignancy in any chronic nonhealing wound, particularly if the wound appears to have occurred spontaneously. [13]
Basal cell carcinoma appears smooth, pearly, and elevated above the skin surface, as illustrated in the image below, whereas squamous cell cancer is often somewhat erythematous and scaly and almost always occurs on sun-exposed areas. Particularly pertinent in wound care is the so-called Marjolin ulcer, a squamous cell carcinoma originating in a chronic wound, such as a burn scar or sinus tract. [14] This implies that even a wound that is decades old is not necessarily benign. Patients with Kaposi sarcoma typically present with multifocal violaceous lower extremity lesions. Patients with cutaneous lymphoma present with a single nodule or a group of papules from one to several centimeters in diameter, and these almost always occurs above the waist.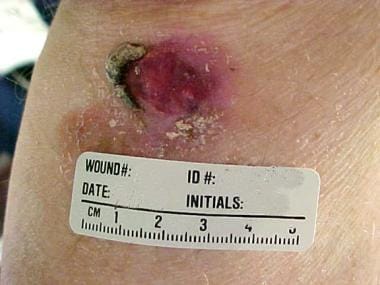 Basal cell cancer manifesting as a chronic leg ulcer.
---
Did this answer your question?
Additional feedback? (Optional)
Thank you for your feedback!