Answer
Computed tomography (CT) may delineate a mass further or may detect a smaller tumor that was missed by radiography (see the image below). Chest CT is the imaging procedure of choice in patients with myasthenia gravis (MG). Thymic enlargement should be determined because most enlarged thymus glands visualized on CT represent thymomas.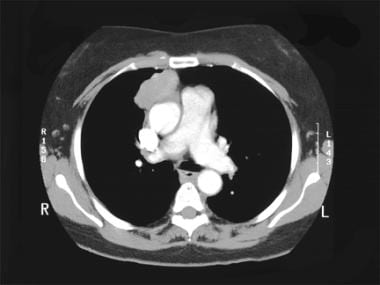 CT scan clearly illustrates mass in right anterolateral mediastinum.
CT with intravenous contrast dye is preferred to show the relations between the thymoma and surrounding vascular structures, to define the degree of its vascularity, and to guide the surgeon in removal of a large tumor, possibly involving other mediastinal structures.
---
Did this answer your question?
Additional feedback? (Optional)
Thank you for your feedback!