Answer
The thymus gland is located behind the sternum, in front of the great vessels and the pericardium; it can extend laterally to the phrenic nerves (see the images below). The main blood supply is from the internal thoracic arteries; however, the gland also is supplied with blood by the inferior thyroid and pericardiophrenic arteries.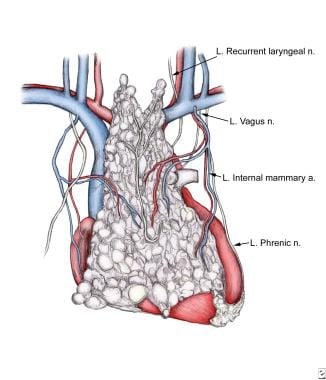 Anatomy of thymus, with emphasis on blood supply and relation to recurrent laryngeal and phrenic nerves.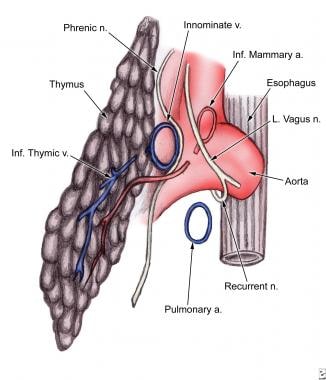 Lateral view of thymus. Thymic arteries are derived from adjacent internal mammary arteries; inferior thymic vein empties into innominate vein. Thymus gland's surrounding vascular and neural structures may be invaded during spread of thymoma.
---
Did this answer your question?
Additional feedback? (Optional)
Thank you for your feedback!