Answer
Other modes of diagnosis include radioisotope scans and ultrasonographic evaluation of the spleen. Angiography is indicated when a vascular lesion is suspected as the etiologic cause, as in cases of arterial embolization, or when it is necessary to manage segmental bleeding by embolization (see the images below).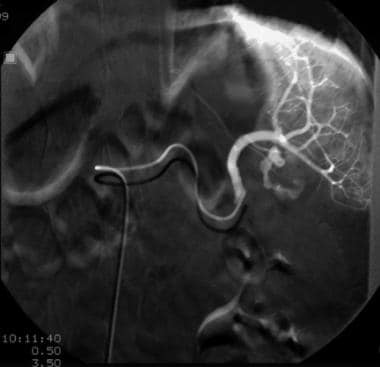 Splenic infarct. Selective splenic arteriogram showing extravasation of contrast from the splenic artery at the splenic hilum prior to angioembolization (same patient as in the above image).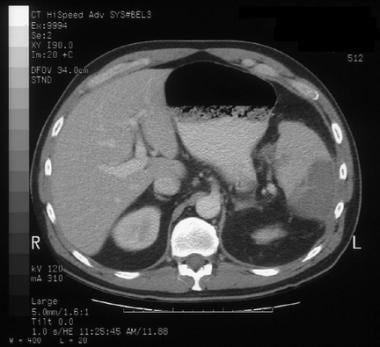 Computed tomography scan of the spleen 5 days after angioembolization of a bleeding splenic artery, showing partial splenic infarct (demonstrated by a lack of IV contrast enhancement of the lower pole of spleen). The patient experienced no adverse sequelae and fared well following his discharge to home 5 days after the embolization (same patient as in the above images).
---
Did this answer your question?
Additional feedback? (Optional)
Thank you for your feedback!