Answer
Computed tomography (CT), performed with intravenous (IV) nonionic contrast, is the current diagnostic modality of choice (see the image below). Before the CT era, the diagnosis of splenic infarction was most commonly made at laparotomy for an intra-abdominal catastrophe or on postmortem examination.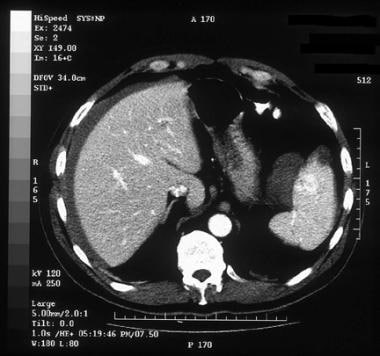 Splenic infarct. Computed tomography scan of a 51-year-old man following a motor vehicle accident. American Association for the Surgery of Trauma (AAST) grade III splenic injury, with active extravasation of contrast from the splenic parenchyma (the white area along the medial aspect of the spleen).
Magnetic resonance imaging (MRI), preferably performed with IV gadolinium contrast, is another useful modality that clearly identifies infarcted splenic parenchyma. Contrast-enhanced MRI and multidetector CT allow three-dimensional reconstructions in any plane (coronal, sagittal, or axial) to better visualize the classic appearance of wedge-shaped infarctions within the spleen.
Given the dual blood supply of the spleen, contrast-enhanced studies should be performed during a delayed phase so that the normal early archiform pattern of arterial splenic enhancement does not mask lesions or create pseudolesions.
---
Did this answer your question?
Additional feedback? (Optional)
Thank you for your feedback!