Answer
Thrombosis of the inferior vena cava (IVC) is an underrecognized entity with a variety of clinical presentations. The general concepts of deep venous thrombosis (DVT) and thrombophlebitis are discussed in detail in Deep Venous Thrombosis. However, the implications and complexity of IVC thrombosis (IVCT) merit specific attention. [1, 2]
From a global standpoint, IVCT represents a subset of DVT. Virchow recognized and described the factors predisposing a patient to venous thrombosis. The triad of stasis, vessel injury, and hypercoagulability formulated by Virchow remain the foundation for our understanding of the pathophysiology of DVT in general and for IVCT in particular (see the image below).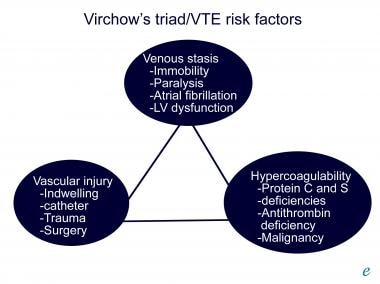 Virchow triad/venous thromboembolism (VTE) risk factors.
As appreciation of the impact of these factors on the patient has improved, therapy has become more directed.
The clinical presentation of IVCT varies, depending on extent and location of the thrombus. Because of the variability in signs and symptoms, using a classification system to describe the clinical features may aid in the diagnosis of this condition.
Thrombophilic screening and evaluation of the clotting and fibrinolytic systems may aid in the diagnosis of IVCT. Contrast venography remains the criterion standard as the optimal diagnostic study for this condition.
Medical management of vena caval thrombosis focuses on anticoagulation and thrombolytic therapy. Surgical management of this condition consists of caval interruption, thrombectomy, or endovascular interventions.
Patient education
For patient education information, see the Circulatory Problems Center, as well as Deep Vein Thrombosis (Blood Clot in the Leg, DVT).
---
Did this answer your question?
Additional feedback? (Optional)
Thank you for your feedback!