Answer
The diagnostic procedure of choice for patients with proctitis and anusitis is endoscopy, including anoscopy, sigmoidoscopy (rigid or flexible), and colonoscopy. (See the image below.) These tests allow the provider to view the mucosa of the anus and rectum as well as the area above the rectum into the sigmoid. In addition, tissue biopsies may be taken with these procedures. A full colonoscopy is recommended for patients with proctitis; biopsy specimens obtained from the right side of the colon may show hallmarks of IBD, such as cell metaplasia.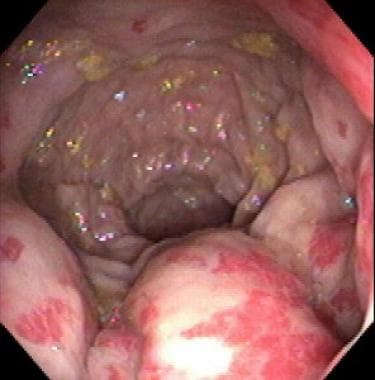 Proctitis seen on flexible endoscopy.
---
Did this answer your question?
Additional feedback? (Optional)
Thank you for your feedback!