Answer
Answer
In 2015, pulmonary embolism guidelines were released by the American College of Physicians and are summarized as follows [7, 8] :
Plasma D-dimer tests are more appropriate for those at intermediate risk for a pulmonary embolism, and no testing may be necessary for some patients at low risk.

Use either the Wells or Geneva rules to choose tests based on a patient's risk for pulmonary embolism.

If the patient is at low risk, clinicians should use the eight PERC; if a patient does not meet all eight criteria, the risks of testing are greater than the risk for embolism, and no testing is needed.

For patients at intermediate risk, or for those at low risk who do not meet all of the rule-out criteria, use a high-sensitivity plasma D-dimer test as the initial test.

In patients older than 50 years, use an age-adjusted threshold (age × 10 ng/mL, rather than a blanket 500 ng/mL), because normal D-dimer levels increase with age.

Patients with a D-dimer level below the age-adjusted cutoff should not receive any imaging studies.

Patients with elevated D-dimer levels should then receive imaging.

Patients at high risk should skip the D-dimer test and proceed to CT pulmonary angiography, because a negative D-dimer test will not eliminate the need for imaging in these patients.

Clinicians should only obtain ventilation-perfusion scans in patients with a contraindication to CT pulmonary angiography or if CT pulmonary angiography is unavailable.

Clinicians should use validated clinical prediction rules to estimate pretest probability in patients in whom acute PE is being considered.
See the image below.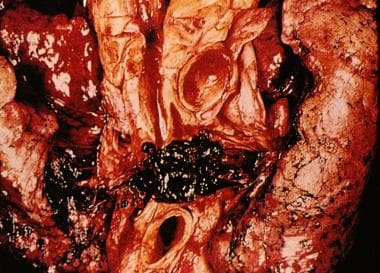 Pulmonary embolus.
To see complete information on pulmonary embolism, please see the Medscape Drugs & Diseases article Pulmonary Embolism.
---
Did this answer your question?
Additional feedback? (Optional)
Thank you for your feedback!