Answer
Early indicators of ischemia on presentation and on noncontrast CT (NCCT) scans are independent indicators of potential swelling and deterioration (see the image below). Mannitol and other therapies to reduce intracranial pressure (ICP) may be used in emergency situations, although their usefulness in swelling secondary to ischemic stroke is unknown. No evidence exists supporting the use of corticosteroids to decrease cerebral edema in acute ischemic stroke. Prompt neurosurgical assistance should be sought when indicated. [1]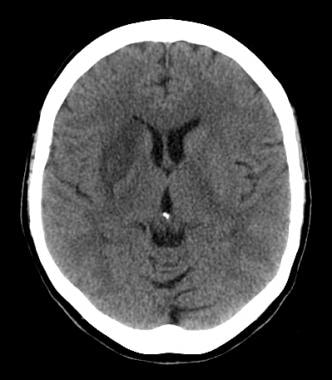 Axial noncontrast computed tomography (NCCT) scan demonstrates diffuse hypodensity in the right lentiform nucleus with mass effect upon the frontal horn of the right lateral ventricle in a 70-year-old woman with a history of left-sided weakness for several hours.
---
Did this answer your question?
Additional feedback? (Optional)
Thank you for your feedback!