Answer
Previously, conventional (spin echo) MRI may take hours to produce discernible findings in acute ischemic stroke. Diffusion-weighted imaging (DWI) is highly sensitive to early cellular edema, which correlates well with the presence of cerebral ischemia. For this reason, many centers include DWI in their standard brain MRI protocol. DWI MRI can detect ischemia much earlier than standard CT scanning or spin echo MRI can and provides useful data in patients with stroke or transient ischemic attack (TIA). (See the image below.) [1, 67, 68, 69]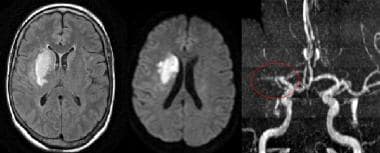 Magnetic resonance imaging (MRI) scan in a 70-year-old woman with a history of left-sided weakness for several hours. An axial T2 fluid-attenuated inversion recovery (FLAIR) image (left) demonstrates high signal in the lentiform nucleus with mass effect. The axial diffusion-weighted image (middle) demonstrates high signal in the same area, with corresponding low signal on the apparent diffusion coefficient (ADC) maps, consistent with true restricted diffusion and an acute infarction. Maximum intensity projection from a 3-dimensional (3-D) time-of-flight magnetic resonance angiogram (MRA, right) demonstrates occlusion of the distal middle cerebral artery (MCA) trunk (red circle).
---
Did this answer your question?
Additional feedback? (Optional)
Thank you for your feedback!