Answer
Vascular watershed, or border-zone, infarctions occur at the most distal areas between arterial territories. They are believed to be secondary to embolic phenomenon or to severe hypoperfusion, as occurs, for example, in carotid occlusion or prolonged hypotension. (See the image below.) [43, 44, 45]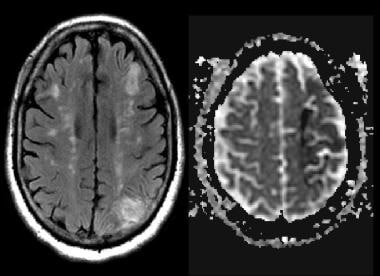 Magnetic resonance imaging (MRI) scan was obtained in a 62-year-old man with hypertension and diabetes and a history of transient episodes of right-sided weakness and aphasia. The fluid-attenuated inversion recovery (FLAIR) image (left) demonstrates patchy areas of high signal arranged in a linear fashion in the deep white matter, bilaterally. This configuration is typical for deep border-zone, or watershed, infarction, in this case the anterior and posterior middle cerebral artery (MCA) watershed areas. The left-sided infarcts have corresponding low signal on the apparent diffusion coefficient (ADC) map (right), signifying acuity. An old left posterior parietal infarct is noted as well.
---
Did this answer your question?
Additional feedback? (Optional)
Thank you for your feedback!