Answer
Infarction results in the death of astrocytes, as well as the supporting oligodendroglial and microglial cells. The infarcted tissue eventually undergoes liquefaction necrosis and is removed by macrophages, with the development of parenchymal volume loss. A well-circumscribed region of cerebrospinal fluid–like low density, resulting from encephalomalacia and cystic change, is eventually seen. The evolution of these chronic changes may be seen in the weeks to months following the infarction. (See the images below.)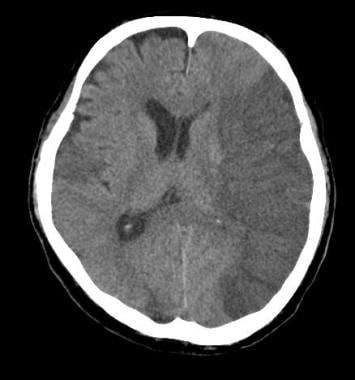 Vascular distributions: Middle cerebral artery (MCA) infarction. Noncontrast computed tomography (CT) scanning demonstrates a large acute infarction in the MCA territory involving the lateral surfaces of the left frontal, parietal, and temporal lobes, as well as the left insular and subinsular regions, with mass effect and rightward midline shift. There is sparing of the caudate head and at least part of the lentiform nucleus and internal capsule, which receive blood supply from the lateral lenticulostriate branches of the M1 segment of the MCA. Note the lack of involvement of the medial frontal lobe (anterior cerebral artery [ACA] territory), thalami, and paramedian occipital lobe (posterior cerebral artery [PCA] territory).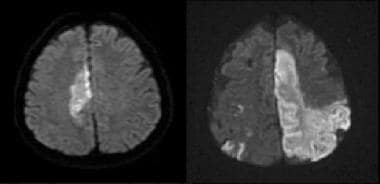 Vascular distributions: Anterior cerebral artery (ACA) infarction. Diffusion-weighted image on the left demonstrates high signal in the paramedian frontal and high parietal regions. The opposite diffusion-weighted image in a different patient demonstrates restricted diffusion in a larger ACA infarction involving the left paramedian frontal and posterior parietal regions. There is also infarction of the lateral temporoparietal regions bilaterally (both middle cerebral artery [MCA] distributions), greater on the left indicating multivessel involvement and suggesting emboli.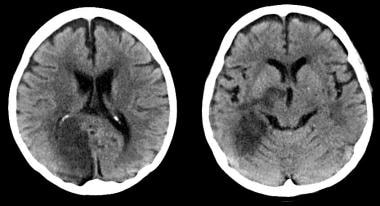 Vascular distributions: Posterior cerebral artery (PCA) infarction. The noncontrast computed tomography (CT) images demonstrate PCA distribution infarction involving the right occipital and inferomedial temporal lobes. The image on the right demonstrates additional involvement of the thalamus, also part of the PCA territory.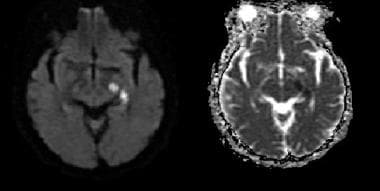 Vascular distributions: Anterior choroidal artery infarction. The diffusion-weighted image (left) demonstrates high signal with associated signal dropout on the apparent diffusion coefficient (ADC) map involving the posterior limb of the internal capsule. This is the typical distribution of the anterior choroidal artery, the last branch of the internal carotid artery (ICA) before bifurcating into the anterior and middle cerebral arteries. The anterior choroidal artery may also arise from the middle cerebral artery (MCA).
---
Did this answer your question?
Additional feedback? (Optional)
Thank you for your feedback!