Answer
Acute ischemic stroke (AIS) is characterized by the sudden loss of blood circulation to an area of the brain, typically in a vascular territory, resulting in a corresponding loss of neurologic function. Also previously called cerebrovascular accident (CVA) or stroke syndrome, stroke is a nonspecific state of brain injury with neuronal dysfunction that has several pathophysiologic causes. Strokes can be divided into 2 types: hemorrhagic or ischemic. Acute ischemic stroke is caused by thrombotic or embolic occlusion of a cerebral artery. (See the image below.)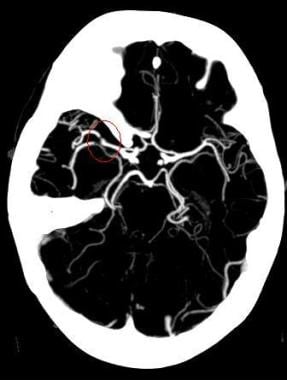 Maximum intensity projection (MIP) image from a computed tomography angiogram (CTA) demonstrates a filling defect or high-grade stenosis at the branching point of the right middle cerebral artery (MCA) trunk (red circle), suspicious for thrombus or embolus. CTA is highly accurate in detecting large- vessel stenosis and occlusions, which account for approximately one third of ischemic strokes.
---
Did this answer your question?
Additional feedback? (Optional)
Thank you for your feedback!