Answer
Endovascular therapy using coil embolization, as an alternative to surgical clipping, has been increasingly employed in recent years with great success (see the following images), although controversy still exists over which treatment is ultimately superior.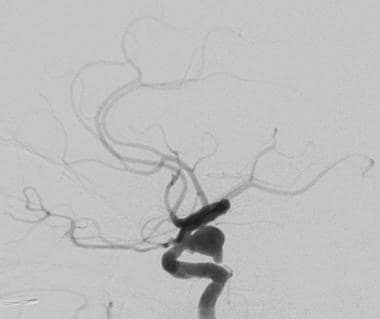 A cerebral angiogram was performed in a 57-year-old man with a family history of subarachnoid hemorrhage and who was found on previous imaging to have a left distal internal carotid artery (ICA) aneurysm. The lateral projection from this angiogram demonstrates a narrow-necked aneurysm arising off the posterior aspect of the distal supraclinoid left ICA, with an additional nipplelike projection off the inferior aspect of the dome of the aneurysm. There is also a mild, lobulated dilatation of the cavernous left ICA.
Follow-up cerebral angiogram after coil embolization in a 57-year-old man with a left distal internal carotid artery aneurysm. Multiple coils were placed with sequential occlusion of the aneurysm, including the nipple at its inferior aspect. A small amount of residual filling is noted at the proximal neck of the aneurysm, which may thrombose over time.
---
Did this answer your question?
Additional feedback? (Optional)
Thank you for your feedback!