Answer
The cerebral hemispheres are supplied by 3 paired major arteries: the anterior, middle, and posterior cerebral arteries. The anterior and middle cerebral arteries are responsible for the anterior circulation and arise from the supraclinoid internal carotid arteries. The posterior cerebral arteries arise from the basilar artery and form the posterior circulation, which also supplies the thalami, brainstem, and cerebellum. The angiograms in the images below demonstrate some portions of the circulation involved in hemorrhagic strokes.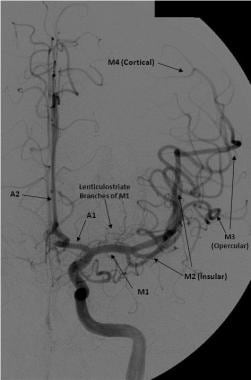 Frontal view of a cerebral angiogram with selective injection of the left internal carotid artery illustrates the anterior circulation. The anterior cerebral artery consists of the A1 segment proximal to the anterior communicating artery with the A2 segment distal to it. The middle cerebral artery can be divided into 4 segments: the M1 (horizontal segment) extends to the limen insulae and gives off lateral lenticulostriate branches, the M2 (insular segment), M3 (opercular branches), and M4 (distal cortical branches on the lateral hemispheric convexities).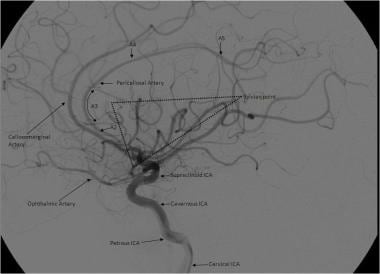 Lateral view of a cerebral angiogram illustrates the branches of the anterior cerebral artery (ACA) and sylvian triangle. The pericallosal artery has been described as arising distal to the anterior communicating artery or distal to the origin of the callosomarginal branch of the ACA. The segmental anatomy of the ACA has been described as follows: (1) the A1 segment extends from the internal carotid artery (ICA) bifurcation to the anterior communicating artery, (2) A2 extends to the junction of the rostrum and genu of the corpus callosum, (3) A3 extends into the bend of the genu of the corpus callosum, and (4) A4 and A5 extend posteriorly above the callosal body and superior portion of the splenium. The sylvian triangle overlies the opercular branches of the middle cerebral artery, with the apex representing the sylvian point.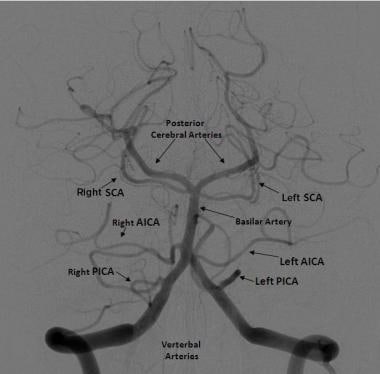 Frontal projection from a right vertebral artery angiogram illustrates the posterior circulation. The vertebral arteries join to form the basilar artery. The posterior inferior cerebellar arteries (PICA) arise from the distal vertebral arteries. The anterior inferior cerebellar arteries (AICA) arise from the proximal basilar artery. The superior cerebellar arteries (SCA) arise distally from the basilar artery before its bifurcation into the posterior cerebral arteries.
---
Did this answer your question?
Additional feedback? (Optional)
Thank you for your feedback!