Answer
Brain imaging is a crucial step in the evaluation of suspected hemorrhagic stroke and must be obtained on an emergent basis (see the image below). Brain imaging aids in excluding ischemic stroke, and it may identify complications of hemorrhagic stroke such as intraventricular hemorrhage, brain edema, and hydrocephalus. Either noncontrast computed tomography (NCCT) scanning or magnetic resonance imaging (MRI) is the modality of choice. For more information, see Ischemic Stroke in Emergency Medicine. (See Workup.)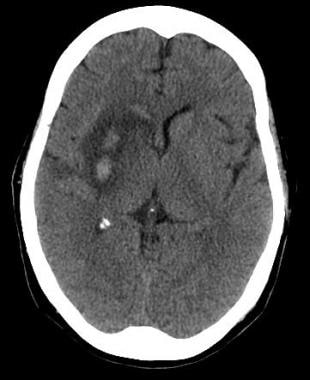 Axial noncontrast computed tomography scan of the brain of a 60-year-old man with a history of acute onset of left-sided weakness. Two areas of intracerebral hemorrhage are seen in the right lentiform nucleus, with surrounding edema and effacement of the adjacent cortical sulci and right sylvian fissure. Mass effect is present upon the frontal horn of the right lateral ventricle, with intraventricular extension of the hemorrhage.
---
Did this answer your question?
Additional feedback? (Optional)
Thank you for your feedback!