Answer
For most subcutaneous lipomas, no imaging studies are required.
Lesions in the gastrointestinal (GI) tract may be visible on GI contrast studies (see the image below).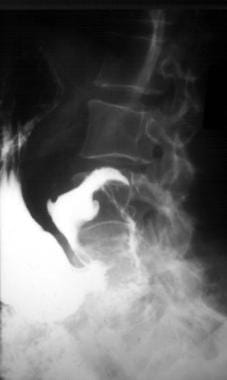 Upper gastrointestinal series shows duodenal lipoma with central ulceration where the overlying mucosa has thinned, ulcerated, and bled.
Imaging studies for lipomas in atypical locations (or those for which the differential diagnosis includes sarcoma) include ultrasonography (US), computed tomography (CT), and magnetic resonance imaging (MRI). [14]
In a retrospective review of the use of US by two musculoskeletal radiologists to evaluate 714 superficial soft-tissue tumors, Hung et al reported a sensitivity of 95.2% and a specificity of 94.3% for lipoma. [15]
When CT is employed, a radiodensity of less than 50 Hounsfield units is indicative of a soft-tissue tumor composed of fat, though no reliable distinction can be made between a benign lipoma and a malignant liposarcoma. [6]
MRI has been recommended as a reliable preoperative investigation. [16, 17, 18, 19, 6] It has been employed in intramuscular lipoma, pediatric lipoblastomas, and others. The findings of intramuscular lipomas, for example, range from small, homogeneous masses to large, inhomogeneous lesions with infiltrative margins. However, like CT, MRI does not allow an absolute, reliable distinction between a lipoma and a liposarcoma. [20] A study by Thornhill suggested that the addition of computer-assisted diagnosis may improve the ability of MRI to make this distinction. [21]
Because all lipomas are radiolucent, soft-tissue radiography can be diagnostic, but it is indicated only when the diagnosis is in doubt.
---
Did this answer your question?
Additional feedback? (Optional)
Thank you for your feedback!