Answer
Lipomas are common benign mesenchymal tumors. They may develop in virtually all organs throughout the body. The anatomy depends on the tumor site. Subcutaneous lipomas are usually not fixed to the underlying fascia. The fibrous capsule must be removed to prevent recurrence.
In the GI tract, lipomas present as submucosal fatty tumors. The most common locations include the esophagus, stomach, and small intestine. Symptoms occur from luminal obstruction or bleeding.
Duodenal lipomas are mostly small but may become pedunculated with obstruction of the lumen. They may cause pain, obstructive jaundice, or intussusception in younger patients. [1] Mucosal erosion over the lipoma may lead to severe bleeding (see the image below). Small intestinal lipomas occur mainly in elderly patients. They tend to be pedunculated submucosal lesions. They are more common in the ileum than in the duodenum or jejunum. As with duodenal lipomas, severe hemorrhage or intussusception may occur.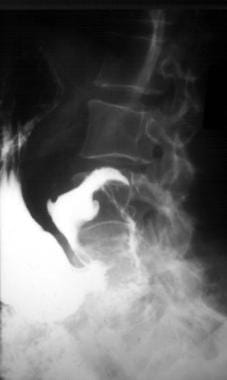 Upper gastrointestinal series shows duodenal lipoma with central ulceration where the overlying mucosa has thinned, ulcerated, and bled.
Colonic lipomas are usually discovered on endoscopy. Gentle palpation with a biopsy forceps reveals the soft nature of the submucosal mass. A biopsy specimen of the mucosa may reveal underlying fat, the so-called naked fat sign. As with lipomas in other locations, colonic lipomas may cause pain with obstruction or intussusception.
As noted above, a fatty protrusion of preperitoneal fat termed a "lipoma of the spermatic cord" is a common finding on groin exploration for hernia repair.
Numerous case reports document the presence of lipomas in other, rare locations, with these tumors having been found virtually everywhere in the body. [2, 3, 4, 5, 6] Lipomatous involvement of endocrine organs, including the thyroid, adrenal glands, pancreas, and parathyroid glands, has been described. Maxillofacial lipomas, including intralingual, parotid, orbitonasal, maxillary sinusoidal, and parapharyngeal space masses, have also been documented.
In rare instances, intraosseous and intra-articular involvement occurs. Involvement of the structural components of the mediastinum, including the airways and pleura, has also been reported. Gynecologic lipomas may occur in the uterus, ovaries, and broad ligament. Critical organ involvement of the heart (causing ventricular tachycardia), superior vena cava, brain, and spinal cord may pose a significant clinical challenge. [7, 8]
Mixed histologies, such as angiolipomas and fibrolipomas, are often encountered and are usually benign. Differentiation from liposarcoma may be difficult.
Other fatty tumors include lipoblastomas, hibernomas, atypical lipomatous tumors, and liposarcomas. Lipoblastomas occur almost exclusively in infants and children. They have a benign clinical course and a low recurrence rate after surgical excision. Hibernomas, also rare, derive their name from the morphologic resemblance to the brown fat of hibernating animals. They presumably arise from fat that may occur in the back, hips, or neck in adults and infants. Atypical lipomatous tumors are generally considered to be low-grade sarcomas, with a strong propensity to recurrence but little metastatic potential. Liposarcomas are true mesenchymal malignancies.
---
Did this answer your question?
Additional feedback? (Optional)
Thank you for your feedback!