Answer
The troponins are regulatory proteins found in skeletal and cardiac muscle. The three subunits that have been identified include troponin I (TnI), troponin T (TnT), and troponin C (TnC). The genes that code for the skeletal and cardiac isoforms of TnC are identical; thus, no structural difference exists between them. However, the skeletal and cardiac subforms for TnI and TnT are distinct, and immunoassays have been designed to differentiate between them. This explains the cardiospecificity of the cardiac troponins. Skeletal TnI and TnT are structurally different. No cross-reactivity occurs between skeletal and cardiac TnI and TnT with the current assays.
The cardiac troponins are sensitive, cardiospecific, and provide prognostic information for patients with ACS. They have become the cardiac markers of choice for patients with ACS.
Early studies on the release kinetics of the cardiac troponins indicated that they were not early markers of myocardial necrosis. The early generation troponin assays yielded positive results within 4-8 hours after symptom onset, similar in timing to the release of CK-MB; however, they remained elevated for as long as 7-10 days post-myocardial infarction.
Initial studies on the cardiac troponins revealed a subset of patients with rest unstable angina in whom CK-MB levels were normal but who had elevated troponin levels. These patients had higher adverse cardiac event rates (acute myocardial infarction, death) within the 30 days after the index admission and a natural history that closely resembled patients with NSTEMI. The table below outlines many of the initial studies on troponins in ACS.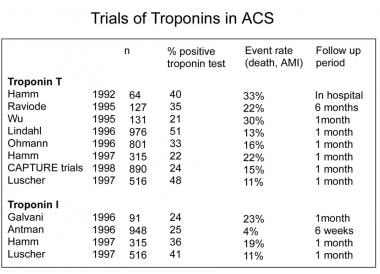 Use of cardiac markers in the ED. Studies on troponins in ACS.
As previously mentioned, an elevated troponin level also enables risk stratification of patients with ACS and identifies patients at high risk for adverse cardiac events (ie, myocardial infarction, death) up to 6 months after the index event. [5, 6]
In a study by Antman et al, the initial TnI level on admission in patients with ACS correlated with mortality at 6 weeks. CK-MB levels, although sensitive and specific for the diagnosis of acute myocardial infarction, were not predictive of adverse cardiac events and had no prognostic value. [5] The relationship between TnI levels and risk of cardiac events and mortality is demonstrated in the graphs below.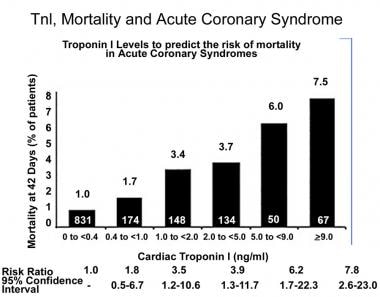 Use of cardiac markers in the ED. Troponin I levels and cardiac mortality in ACS.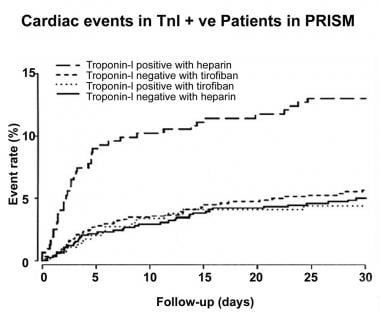 Use of cardiac markers in the ED. Cardiac event rates in the platelet receptor inhibition for ischemic syndrome (PRISM) study based on troponin I results.
Data from a meta-analysis indicated that an elevated troponin level in patients without ST-segment elevation is associated with a nearly 4-fold increase in cardiac mortality rate. For the composite end point of acute myocardial infarction or death, an elevated troponin level was associated with an odds ratio of 3.3. [21]
The TIMI IIIB, GUSTO IIa, GUSTO IV ACS, and Fragmin During Instability in Coronary Artery Disease (FRISC) trial all demonstrated a direct correlation between the level of TnI or TnT and the adverse cardiac event rate and mortality rate in ACS. [5, 22, 23, 24, 25] These studies confirmed the use of the cardiac troponins TnI and TnT in risk stratification and therapeutic decision making.
Studies by Ohman et al and Stubbs et al revealed that an elevated troponin level at baseline was an independent predictor of mortality even in patients with chest pain and acute myocardial infarction with ST-segment elevation who were eligible for reperfusion therapy. [22, 26]
With the introduction of increasingly sensitive and precise troponin assays, up to 80% of patients with acute myocardial infarction will be found to have an elevated troponin within 2-3 hours of ED arrival. With this improved clinical performance in cardiac troponin assays, the so-called rapidly rising cardiac biomarkers, such as myoglobin or CK-MB isoforms, have little clinical utility. [27, 28, 29, 30] In a prospective multicenter study, patients with ACS who and presented with acute chest pain to the ED were followed for 12 months. The study found that patients with normal high-sensitivity cardiac troponin T (hs-cTnT) levels at presentation have low mortality rates but an increased rate of acute myocardial infarction during the subsequent 360 days. [31]
As a result, some authorities have called for a troponin standard alone and recommend eliminating CK-MB. [32]
Many patients with acute myocardial infarction present with equivocal ECG patterns, making prehospital ECG diagnosis difficult. A study by Sorensen et al suggests prehospital TnT testing may improve diagnosis in patients with chest pain transported by ambulance. [33] When quantitative TnT was measured at hospital arrival in 958 patients after 8 and 24 hours, a diagnosis of acute myocardial infarction was established in 208 of 258 patients with increased TnT levels, showing prehospital TnT testing is feasible with a high success rate. Prehospital implementation of quantitative tests, with lower detection limits, may identify most patients with acute myocardial infarction irrespective of ECG changes.
If myocardial injury is suspected despite negative cardiac-specific troponin findings, additional, sensitive laboratory assays are indicated. [34]
Patients with suspected ACS who test negative for troponin and copeptin can be safely discharged from the hospital without further testing, according to a recent study, the Biomarkers in Cardiology 8 (BiC-8) trial. Copeptin, a marker of severe hemodynamic stress, can be detected immediately in acute myocardial infarction. [35] The study involved 902 patients at low to intermediate risk of ACS; half of the patients were treated with standard care, and the other 451 patients underwent a copeptin assay. In the latter group, patients with a positive copeptin test, defined as a level of 10 pmol/L or greater, were treated with standard ACS care, while patients with a copeptin level below 10 pmol/L were discharged into ambulant care, including an outpatient visit within 72 hours. In the 451 patients tested for troponin and treated with standard care, the 30-day rate of major adverse cardiovascular events was 5.5%, compared with 5.46% in the 451 patients tested for troponin and copeptin (a statistically insignificant difference). [35]
---
Did this answer your question?
Additional feedback? (Optional)
Thank you for your feedback!