Answer
ECGs should be reviewed promptly. Involve a cardiologist when in doubt.
Recording an ECG during an episode of the presenting symptoms is valuable. Transient ST-segment changes (>0.05 mV) that develop during a symptomatic period and that resolve when the symptoms do are strongly predictive of underlying CAD and have prognostic value. Comparison with previous ECGs is often helpful.
Alternative causes of ST-segment and T-wave changes are left ventricular aneurysm, pericarditis, Prinzmetal angina, early repolarization, Wolff-Parkinson-White syndrome, and drug therapy (eg, with tricyclic antidepressants, phenothiazines).
In the emergency setting, ECG is the most important ED diagnostic test for angina. It may show changes during symptoms and in response to treatment, confirm a cardiac basis for symptoms. It also may demonstrate preexisting structural or ischemic heart disease (left ventricular hypertrophy, Q waves). A normal ECG or one that remains unchanged from the baseline does not exclude the possibility that chest pain is ischemic in origin. Changes that may be seen during anginal episodes include the following:
Transient ST-segment elevations

Dynamic T-wave changes - Inversions, normalizations, or hyperacute changes

ST depressions - May be junctional, downsloping, or horizontal
In patients with transient ST-segment elevations, consider LV aneurysm, pericarditis, Prinzmetal angina, early repolarization, and Wolff-Parkinson-White syndrome as possible diagnoses. Fixed changes suggest acute myocardial infarction.
When deep T-wave inversions are present, consider the possibility of central nervous system (CNS) events or drug therapy with tricyclic antidepressants or phenothiazines as the cause.
Diagnostic sensitivity may be increased by performing right-sided leads (V4 R), posterior leads (V8, V9), and serial recordings.
ECGs from two patients are shown below.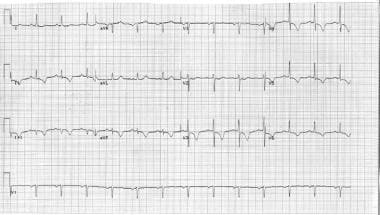 A 50-year-old man with type 1 diabetes mellitus and hypertension presents after experiencing 1 hour of midsternal chest pain that began after eating a large meal. Pain is now present but is minimal. Aspirin is the single drug that will have the greatest potential impact on subsequent morbidity. In the setting of ongoing symptoms and electrocardiogram (ECG) changes, nitrates titrated to 10% reduction in blood pressure and symptoms, beta blockers, and heparin are all indicated. If the patient continues to have persistent signs and/or symptoms of ischemia, addition of a glycoprotein IIb/IIIa inhibitor should be considered.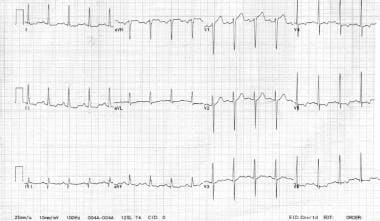 A 62-year-old woman with a history of chronic stable angina and a "valve problem" presents with new chest pain. She is symptomatic on arrival, complaining of shortness of breath and precordial chest tightness. Her initial vital signs are blood pressure = 140/90 mm Hg and heart rate = 98. Her electrocardiogram (ECG) is as shown. She is given nitroglycerin sublingually, and her pressure decreases to 80/palpation. Right ventricular ischemia should be considered in this patient.
In difficult cases with nondiagnostic ECGs, such as those involving a left bundle-branch block, early imaging is useful to assess wall-motion abnormalities.
An important use of noninvasive imaging is to classify a patient has having NSTEMI or true STEMI.
The Optimal Cardiovascular Diagnostic Evaluation Enabling Faster Treatment of Myocardial Infarction (OCCULT-MI) trial compared the 80-lead (80L) mapping system to standard 12-lead (12L) ECG. The study concluded that the 80L body surface mapping technology detected more patients with MI or ACS than the 12L ECG, while still maintaining a high degree of specificity. [18]
A study by Damman et al examined information from 5,420 patients from the Fragmin and Fast Revascularization During Instability in Coronary Artery Disease (FRISC II), Invasive Versus Conservative Treatment in Unstable Coronary Syndromes (ICTUS), and Randomized Intervention Trial of Unstable Angina 3 (RITA-3) patient-pooled database. The study found that admission ECG characteristics had long-term prognostic value for cardiovascular death or myocardial infarction. Quantitative ECG characteristics showed no incremental discrimination compared with qualitative data. [19]
A 5-year follow-up of patients with non–ST-elevation acute coronary syndrome from these 3 trials found no link between a procedure-related MI and long-term cardiovascular mortality. However, long-term mortality substantially increased after a spontaneous MI. [20]
---
Did this answer your question?
Additional feedback? (Optional)
Thank you for your feedback!