Answer
Stable coronary artery disease (CAD) may result in ACS in the absence of plaque rupture and thrombosis, when physiologic stress (eg, trauma, blood loss, anemia, infection, tachyarrhythmias) increases demands on the heart. In such cases, the diagnosis of acute myocardial infarction can be made if workup reveals the typical rise and fall of biochemical markers of myocardial necrosis along with at least one of the following [2] :
Development of pathologic Q waves on electrocardiogram (ECG)

Significant ST-segment-T wave (ST-T) changes or new left bundle branch block (LBBB)

Imaging evidence of new loss of viable myocardium or new regional wall motion abnormality

Introcoronary thrombus identified by angiography or autopsy
Non–ST-segment elevation myocardial infarction (NSTEMI) is distinguished from unstable angina by elevated levels of cardiac enzymes and biomarkers of myocyte necrosis. Differentiation is generally based on 3 sets of biomarkers measured at 6- to 8-hour intervals after the patient's presentation to the ED. The current definition of NSTEMI requires a typical clinical syndrome plus elevated troponin (or creatine kinase isoenzyme MB [CK-MB]) levels to over 99% of the normal reference (with a coefficient of variation of < 10% for the assay). Given this definition, nearly 25% of patients who were previously classified as having unstable angina now fulfill the criteria for NSTEMI.
Measure cardiac enzyme levels at regular intervals, starting at admission and continuing until the peak is reached or until 3 sets of results are negative. Biochemical biomarkers (demonstrated in the image below) are useful for diagnosis and prognostication.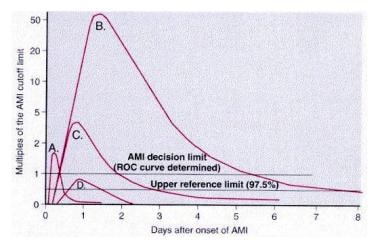 This plot shows changes in cardiac markers over time after the onset of symptoms. Peak A is the early release of myoglobin or creatine kinase isoenzyme MB (CK-MB) after acute myocardial infarction (AMI). Peak B is the cardiac troponin level after infarction. Peak C is the CK-MB level after infarction. Peak D is the cardiac troponin level after unstable angina. Data are plotted on a relative scale, where 1.0 is set at the myocardial-infarction cutoff concentration. Courtesy of Wu et al (1999). ROC = receiver operating characteristic.
Of note, cardiac-specific troponins are not detectable in the blood of healthy individuals; therefore, they provide high specificity for detecting injury to cardiac myocytes. These molecules are also more sensitive than CK-MB for myocardial necrosis and therefore improve early detection of small myocardial infarctions. Although blood troponin levels increase simultaneously with CK-MB levels (about 6 h after the onset of infarction), they remain elevated for as long as 2 weeks. As a result, troponin values cannot be used to diagnose reinfarction. New methods of detecting troponins in the blood can measure levels as low as 0.1-0.2 ng/mL.
Keller et al suggest that among patients with suspected acute coronary syndrome, highly sensitive troponin I assay (hsTnI) or contemporary troponin I assay (cTnI) determination 3 hours after admission for chest pain may facilitate early rule-out of acute myocardial infarction. A serial change in hsTnI or cTnI levels from admission (using the 99th percentile diagnostic cutoff value) to 3 hours postadmission may aid in early diagnosis of acute myocardial infarction. [17]
Minor elevations in these molecules can be detected in the blood of patients without ACS in the setting of myocarditis (pericarditis), sepsis, renal failure, acute congestive heart failure (CHF), acute pulmonary embolism, or prolonged tachyarrhythmias.
---
Did this answer your question?
Additional feedback? (Optional)
Thank you for your feedback!