Answer
Answer
The next step should be auscultation (see image below) for the presence and quality of bowel sounds prior to any other form of manipulation. As these sounds are audible throughout the abdomen and peristaltic activity is never restricted to one portion of the abdomen, the practice of auscultating in all 4 quadrants provides little useful information. In the younger child, bowel sounds can appear to be referred and attempting to draw conclusions based on the apparent area of auscultation can be misleading. If bowel sounds are not immediately audible, a period of 30-60 seconds should be dedicated to listening as the establishment of absent bowel sounds has immediate implications and should be unequivocal. High-pitched, frequent bowel sounds are associated with small bowel obstruction. Abdominal bruits are associated with vascular, most commonly large arterial, pathology.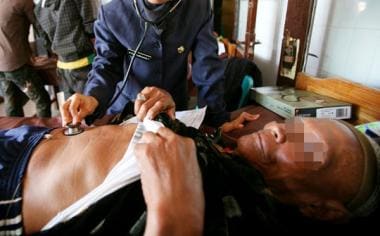 Abdominal auscultation.
---
Did this answer your question?
Additional feedback? (Optional)
Thank you for your feedback!