Answer
Answer
The abdominal examination is part of all comprehensive examinations of all patients of all ages. These may be routine, scheduled examinations, or examinations to address nonspecific symptoms such as fever, weight loss, lethargy, loss of appetite, and nausea. It is an essential component of the evaluation of the patient with abdominal trauma (see images below), or generalized trauma which may include abdominal organs. It is the primary focus of the evaluation of a patient whose chief symptom is related to any type of abdominal signs or symptoms including, but not limited to, the terms listed above and to any suspected pathology in the gastrointestinal tract. If life-threatening intestinal pathology exists, most commonly obstruction, perforation, ischemia, or volvulus, a rapid and diagnostic abdominal examination will be the single most important factor to avoid mortality and to minimize morbidity.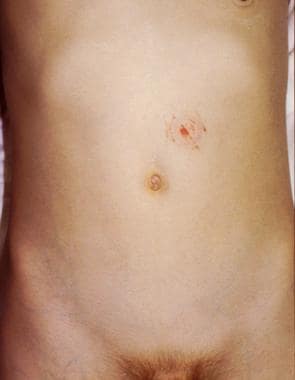 Abdominal wall findings from a handlebar injury.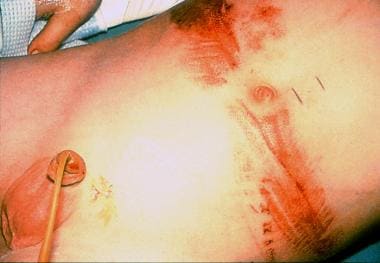 Abdominal wall findings in a passenger who was restrained with only a lap belt during a motor vehicle accident.
---
Did this answer your question?
Additional feedback? (Optional)
Thank you for your feedback!