Answer
Prepare patients for general endotracheal anesthesia. Prophylactic antibiotics are not necessary. The patient is positioned supine, with placement of orogastric and bladder catheters to decompress the stomach and bladder. The abdomen is prepared and draped in a sterile fashion.
The operation is begun by inducing pneumoperitoneum with carbon dioxide gas via placement of a Veress needle or Hasson trocar. Generally, three laparoscopic ports are required: one for the telescope with camera, one for retraction, and one to carry out the dissection. The extent of the cyst is usually readily apparent on laparoscopic inspection, but, if not, laparoscopic ultrasonography can be performed to define the cyst anatomy.
The line of the intended unroofing is marked with an electrocautery device, and the cyst excision itself is undertaken with an electrocautery or an ultrasonic or bipolar scalpel. These steps are shown in the images below. Excision of the entire cyst wall is neither necessary nor desired; if attempted, it carries the risk of injury to portal or hepatic venous vessels that may be stretched over the cyst wall.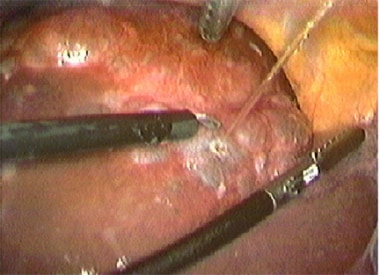 Laparoscopic view of initial hepatic cyst puncture, before unroofing. Lesion is located high in right liver near the diaphragm.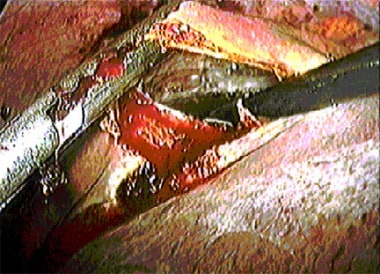 Laparoscopic view of beginning of unroofing of large simple hepatic cyst near dome of right liver.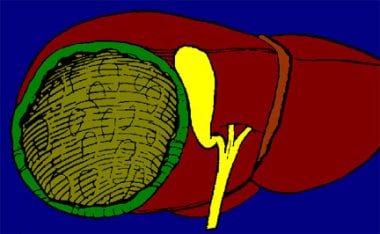 Drawing of final result of laparoscopic unroofing of a large simple hepatic cyst in right liver.
In cases where the proportion of the cyst wall that can be excised easily is small, omentum should be positioned on a pedicle into the cyst cavity to prevent closure of the roof defect and cyst recurrence. The omentum should be sutured or clipped to the edges of the excision margin. After ensuring that hemostasis is complete, the pneumoperitoneum is desufflated and the trocar sites closed. Waterproof dressings are applied. [24]
---
Did this answer your question?
Additional feedback? (Optional)
Thank you for your feedback!