Answer
In adult PCLD (AD-PCLD), enlargement of the liver occurs slowly and only rarely compromises liver function. Only those patients with clearly disabling pain should be considered for surgery. In patients with PCLD, the surgical goal is to decompress as much of the cystic liver as possible. This can be accomplished by a combination of unroofing and fenestration or, in selected patients, by resection of the involved portion of the liver (see the image below). Recurrence of symptoms with either procedure is high as new cysts replace those that have been resected. Small numbers of patients have been treated with liver transplantation. [21]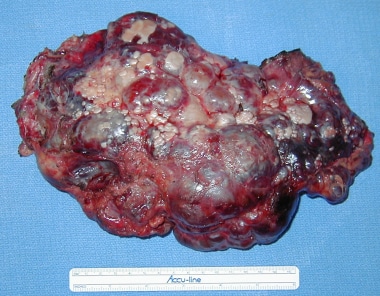 Resection of involved liver in polycystic liver disease.
---
Did this answer your question?
Additional feedback? (Optional)
Thank you for your feedback!