Answer
The clinician has a number of options for imaging the liver in patients with hepatic cysts. Ultrasonography is readily available, noninvasive, and highly sensitive. CT (see the image below) is also highly sensitive and is easier for most clinicians to interpret, particularly for treatment planning. Magnetic resonance imaging (MRI), nuclear medicine scanning, and hepatic angiography have a limited role in the evaluation of hepatic cysts.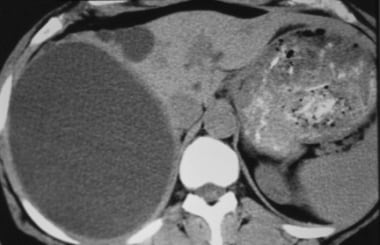 Computed tomography (CT) scan appearance of large hepatic cyst.
Simple cysts have a typical radiographic appearance. They are thin-walled with a homogenous low-density interior.
PCLD is confirmed by means of ultrasonography or CT (see the image below), with multiple liver cysts identified at the time initial of evaluation.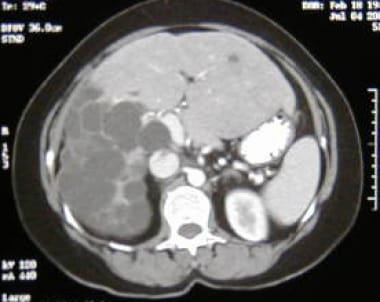 Computed tomography (CT) scan of polycystic liver disease curiously limited to right liver.
Hydatid cysts can be identified by the presence of daughter cysts within a thick-walled main cavity (see the image below).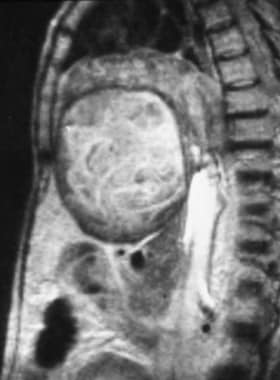 Hepatic cysts. Sagittal magnetic resonance imaging (MRI) reconstruction in patient with large echinococcal cyst; note daughter cysts in interior.
In patients who are jaundiced with hydatid disease, endoscopic retrograde cholangiopancreatography (ERCP) should be performed to determine whether the cyst has ruptured into the bile duct.
Central necrosis of large solid neoplasms can mimic cystic hepatic tumors, in that this area of necrosis appears cystic.
Cystadenoma (see the image below) and cystadenocarcinoma usually appear multiloculated with internal septations, heterogeneous density, and irregularities in the cyst wall. Unlike many tumors, cystadenoma and cystadenocarcinoma are rarely associated with calcifications.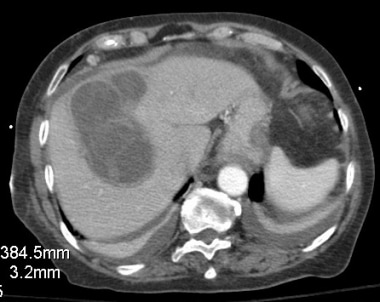 Computed tomography (CT) appearance of biliary cystadenoma.
A practical problem in the evaluation of a patient with a cystic hepatic lesion is differentiating cystic neoplasms from simple cysts. Cystic neoplasms tend to have thicker, irregular, hypervascular walls, whereas simple cysts tend to be thin-walled and uniform. Simple cysts tend to have homogenous low-density interiors, whereas neoplastic cysts usually have heterogeneous interiors with septa and papillary extrusions.
Abscesses of the liver appear cystic on imaging studies (see the image below) but can usually be diagnosed from the overall clinical presentation.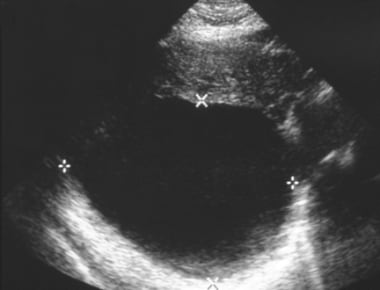 Ultrasonographic appearance of large simple hepatic cyst.
---
Did this answer your question?
Additional feedback? (Optional)
Thank you for your feedback!