Answer
The cause of simple liver cysts is not known, but they are believed to be congenital in origin. The cysts are lined by biliary-type epithelium (see the image below), and perhaps result from progressive dilatation of biliary microhamartomas. Because these cysts seldom contain bile, the current hypothesis is that the microhamartomas fail to develop normal connections with the biliary tree. Typically, the fluid within the cyst has an electrolyte composition that mimics plasma. Bile, amylase, and white blood cells are absent. The cyst fluid is continually secreted by the epithelial lining of the cyst. For this reason, needle aspiration of simple cysts is not curative, and recurrence is the norm.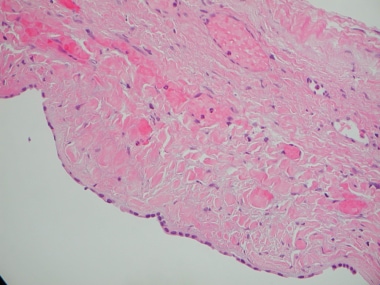 Histology demonstrating biliary epithelium lining simple cyst.
---
Did this answer your question?
Additional feedback? (Optional)
Thank you for your feedback!