Answer
Larger sacral pressure injuries require the use of bilateral flaps such as bilateral V-Y myocutaneous advancement flaps (see the first image below). V-Y flaps can be based on the superior, inferior, or entire gluteus maximus, depending on the location of the pressure injury (see the second image below).
Larger sacral ulcers require use of bilateral flaps, such as bilateral V-Y advancement flaps.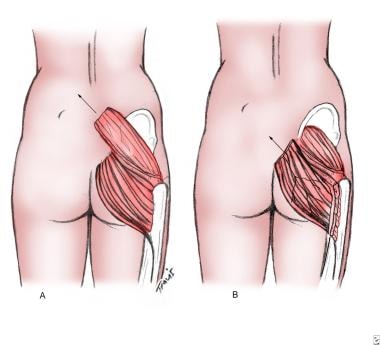 V-Y flaps can be based superiorly or inferiorly or on entire gluteus maximus.
The V should be fashioned wide enough and long enough to permit closure as a Y without tension. The medial edge of the origin of the gluteus maximus is elevated in a medial-to-lateral direction for approximately 4 cm because the superior and inferior gluteal arteries enter the gluteus maximus 5 cm from its origin.
---
Did this answer your question?
Additional feedback? (Optional)
Thank you for your feedback!