Answer
Pressure injuries are typically described in terms of location and depth of involvement. The hip and buttock regions account for up to 70% of all pressure injuries, with ischial tuberosity, trochanteric, and sacral locations being most common. [16] The lower extremities account for an additional 15-25% of all pressure injuries, with malleolar, heel, patellar, and pretibial locations being most common (see the images below).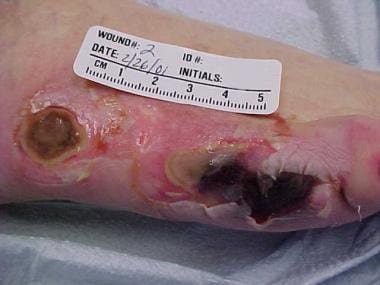 Pressure ulcers of lateral aspect of right foot.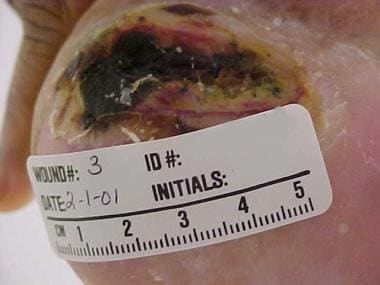 Heel pressure ulcer.
The remaining small percentage of pressure injuries may occur in any location that experiences long periods of uninterrupted pressure. [16] The nose, chin, forehead, occiput, chest, back, and elbow are among the more common of the infrequent sites for pressure injuries. No surface of the body can be considered immune to the effects of pressure.
---
Did this answer your question?
Additional feedback? (Optional)
Thank you for your feedback!